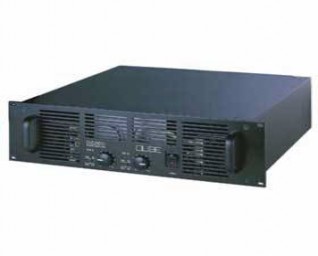 Specificatii tehnice
PA 300
Power Amplifier
The QUBE PA 300 delivers 550w RMS per channel @ 8 ohms, 900w RMS per channel @ 4 ohms, 1300 w RMS per channel @ 2 ohms, and 2600w RMS continuous bridged mono mode @ 4 ohms.
The PA 300 Power Amplifier for is applications where reliability and audiophile sound reproduction are of primary importance. Key features include self-resetting protective circuitry to safeguard against damage and prevent failures, LED indicators for the operation status of each channel, a ground lift switch, a switch for
stereo/ mono/ bridge mode operation, balanced XLR ins/outs and Neutrik® Speakon outs.
The Qube PA 300 Power Amplifier features a port in the rear of the amp to accommodate optional plug in Qube controller modules, which are specially designed to optimize the sound and performance of Qube passive version speakers and to protect them from damage and failure.
The PA 360 is the suggested amplifier for use with the Q 115, QS 118, the Qube BRH and Qube TRS passive speaker systems.
| | |
| --- | --- |
| Continuous power both channels driven (W RMS) | 550W 8 ohm - 900W 4 ohm 1300W 2 ohm @ THD < 0,05% |
| Continuous power bridge mode (W RMS) | 2600W 4 ohm @ THD < 0,05% |
| Impulsive power both channel driven (W RMS) | 600W 4 ohm - 1000W 4 ohm 1500W 2ohm @ THD < 0,05% |
| Impulsive power bridge mode (W RMS) | 3000W 4 ohm @ THD < 0,05% |
| Input sensitivity | 1,4 Veff |
| Input impedance | 15 Kohm min. |
| Slew rate | > 30 V/s |
| Signal to noise ratio | 110 dB w/A |
| Harmonic distortion | <0,01 @ 500 W |
| IMD | <0,04% |
| TIM | <80 dB |
| Frequency response | 20 Hz - 20 kHz |
| Damping factor | > 400 @ 8 ohm,1 KHz |
| Max output voltage | 100 V |
| Max current | 63 A |
| Electrical input | 2800 VA |
| Power supply voltage | 230 V (117v U.S) |
| Protections | DC/thermal/SOA/Softstart |
| Cooling | 2 variable speed fans |
| Dimensions (HxVxD) | cm. 48,2x13,2x48,7 (19"x 5.2" x 19.2") |
| Weight | Kg.30 (lbs 66) |
Produse similare